ISLAMABAD, December 29, 2016: Out of 11.9 million adult women in Sindh province, 2.2 million are yet to get computerized national identity cards (CNICs) and become eligible voters, a consultation was told here on Thursday.
The consultation, Missing Millions, on the issues of the CNIC and voter registration of women was organized at a local hotel jointly by Pakistan Press Foundation (PPF) and Free and Fair Election Network (FAFEN).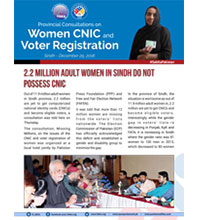 It was told that more than 12 million women are missing from the voters' lists nationwide. The Election Commission of Pakistan (ECP) has officially acknowledged this deficit and established a gender and disability group to minimize the gap.
In the province of Sindh, the situation is worrisome as out of 11.9 million adult women in, 2.2 million are yet to get CNICs and become eligible voters. Interestingly, while the gender gap in voters' lists is decreasing in Punjab, KpK and FATA, it is increasing in Sindh where the gender ratio was 81 women to 100 men in 2013, which decreased to 80 women to 100 men in 2016. Of every 6 adult women in Sindh, one is not registered as citizen, as well as, voter.
The missing women do not have the CNIC that is a legal prerequisite for voter registration, and the majority of the unregistered women belong to the disadvantaged groups. Besides women, thousands of transgendered, minority and physically disabled citizens also remain unregistered.
The unregistered women cannot claim their rights and entitlements, and being out of electoral ambit excludes them from making decisions that affect their lives more.
PML-N MPA Shafi Muhammad Jamote speaking on the occasion stressed the need of opening more NADRA centers especially in Karachi where a large number of citizens goes without the CNICs. However, the meeting was told that the government is taking efforts to open two mega NADRA Centers in Karachi that would be functional next month.